Meet Weber County Sheriff's Office K9 Unit
The Weber County Sheriff's Office K9 division currently consists of four working dogs and their handlers, two being dual certified in Narcotics detection and Patrol apprehension, one certified in Narcotics detection, and one certified in explosives/bomb detection. Along with their assigned duties the division also participates in Demos for various community groups, and schools. The division is also called upon to assist other agencies both locally and regionally on different cases.
Deputy Josh Creamer and his dog Toro
Deputy Josh Creamer started with the Sheriff's office in July 2015. He began his career in the Corrections division and transferred to Enforcement in February 2017. He has worked in many areas of the office including, Patrol, School Resource Officer, and has held many other specialty assignments. Deputy Creamer has been assigned to the K9 division since February 2021 and has both Utah POST and VLK handler certifications in both narcotics and patrol disciplines.
K9 Toro is certified in both Narcotics and Patrol disciplines. Toro has been with the Sheriff's office for several years and is currently assigned to Deputy Creamer. K9 Toro was born in February 2017 and is a German Shepard/ Malinois cross. He was imported from Slovakia by a local kennel before being purchased by the Weber County Sheriff's office. Deputy Creamer and K9 Toro have been very successful together, taking large amounts of narcotics off the streets and assisting in multiple fugitive and/or violent felon apprehensions.
---
Detective Randy Garrett and his dog Capone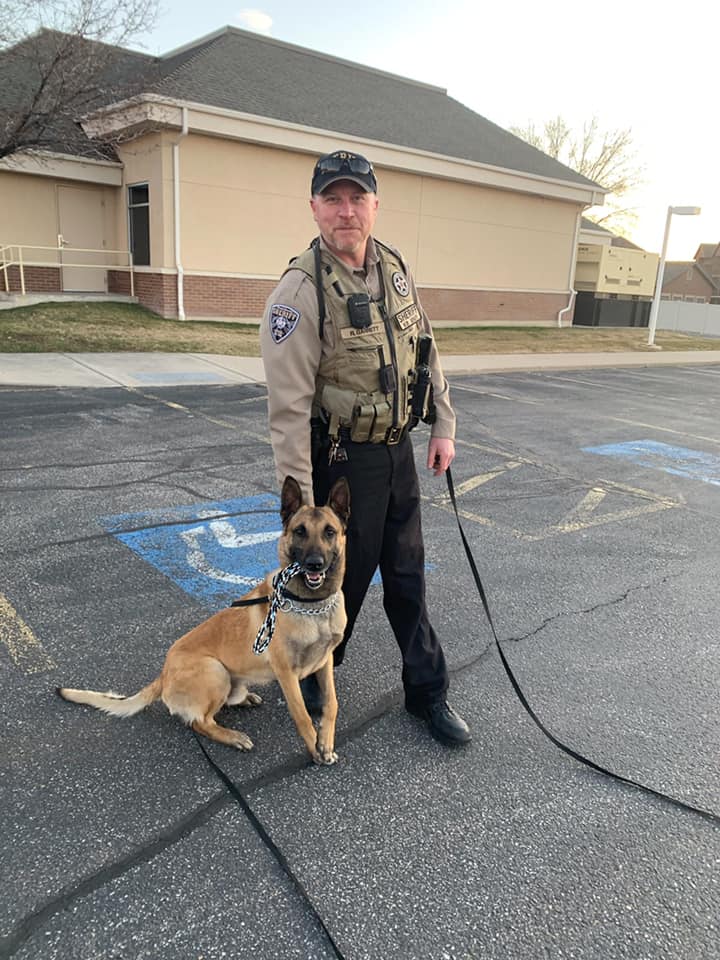 Detective Randy Garrett is a 23-year veteran in Law Enforcement. He has been with the Weber County Sheriff's Office since January 2019 starting in the enforcement division. Detective Garrett is currently assigned to the investigations bureau and is a member of the Street Crimes Unit. Detective Garrett is a K9 narcotics instructor and judge for Utah POST.
Detective Garrett was assigned to K9 in 2020 and was assigned K9 Capone. K9 Capone is a Belgian Milionis and just turned 8 years old. Capone came from a local kennel in Box Elder County Utah. His mother was a search and rescue K9 from Vohne Liche Kennels and his father was a US Army K9.