Meet Weber County Sheriff's Office K9 Unit
The Weber County Sheriff's Office K9 division currently consists of three working dogs and their handlers, two being dual certified in Narcotics detection and Patrol apprehension, and one certified in Electronic device detection. Along with their assigned duties the division also participates in Demos for various community groups, and schools. The division is also called upon to assist other agencies both locally and regionally on different cases. The division falls under the West precinct commander Lt. Courtney Ryan, and is supervised by Sgt. Nealy Adams.
Deputy Josh Gard started with the Sheriff's office in December of 2000 in the Enforcement division. He has worked in many areas of the office including Search and rescue, investigations, community policing, motors, and many other specialty assignments. Deputy Gard has been assigned to the K9 division for a year and is certified as a handler in both narcotics and patrol disciplines.
Bruno is certified in both Narcotics and Patrol disciplines. Bruno has been with the Sheriffs office for a year and assigned to Deputy Gard. Bruno is a 2 year old Dutch Shepard/ Malinois cross and was imported from Slovakia by a local kennel before being purchased by the Weber County Sheriff's office.
Detective Cameron Hartman with his dog URL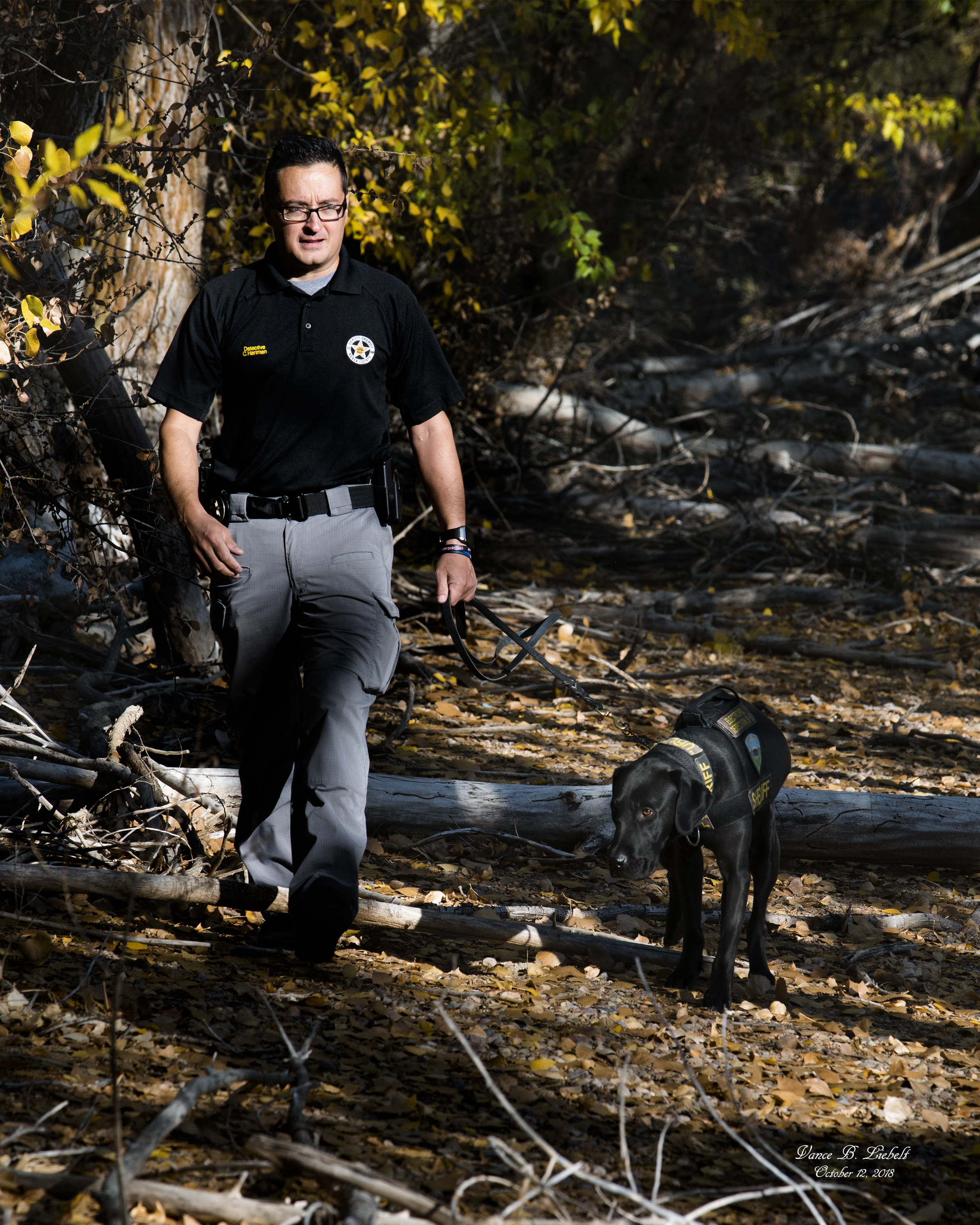 Bio by Cameron:
Detective Cameron Hartman, is an investigator for the Weber County Sheriff's Office, an affiliate with the Utah Attorney General's Office Internet Crimes Against Children (ICAC) Task Force, and a Task Force Officer for the Federal Bureau of Investigations Child Exploitation Task Force (CETF). He graduated from the Weber State POST (Peace Officers Standards and Training) Police Academy in February, 1999 served at the Weber County Sheriff's Office as a Reserve Deputy in October 1999. Detective Cameron Hartman then obtained full-time employment at the Weber County Sheriff's Office in March 2004 gaining experience and participating as a Patrol Deputy, Marine Patrol Deputy, Bike Patrol Deputy, School Resource Officer, and Detective where he is currently assigned to investigate Internet Crimes Against Children, Child Exploitation, and Child Trafficking. He attended the Jordan Detection K-9 ESD training course in Greenfield, Indiana (May 2016) and is currently certified and assigned an Electronic Storage Detection K-9 named "URL" (pronounced Earl).
"URL" is a four-year-old American Black Labrador Retriever who was surrendered to the dog pound on two occasions, the second of which he was scheduled to be euthanized. Central Indiana Lab Rescue and Adoption (Indianapolis, IN) intervened and prevented him from being destroyed by placing him into foster care. He was then transferred to Jordan Detection K-9 where he underwent nine months of Electronic Storage Detection Training. "URL" is only one of a handful of ESDK-9's in the world trained to detect the odors of; Micro SD Cards, SD Cards, Thumb Drives, Hard Drives, Tablets, Cellular Telephones, Laptops, Computers, and anything capable of storing Digital Electronic Media. "URL" has been featured on; several local media stations, CNN, and was a cast member of the 1000th Episode of COPS filmed in Los Angeles, CA. Bringing an ESDK-9 to Utah was a goal of Detective Cameron Hartman and as a result he was awarded the Utah Sheriff's Association's "Deputy Sheriff of The Year 2016" on September 20, 2016.
Bio by "URL":
I'm "URL" (Earl) and I'm a four year old Black Labrador who's been rescued twice because I was crazy and my previous owners gave up on me. One time when I was a pound puppy they were going to put me to sleep cuz I bit someone but, they were asking for it! That's when CILRA saved my life! They stole me away from the scary dog pound and put me in foster care with a nice guy whose name I can't remember. Then a guy named Todd Jordan came out of nowhere and took me on a long drive to Greenfield, Indiana where he taught me how to find electronic storage devices such as; thumb drives, SD cards, Micro SD cards, cell phones, tablets, laptops, hard drives and basically anything that can store digital evidence. And when I passed all of my training a really cool cop from out west took me on an even longer drive back to Utah with him and got me a job at the Weber County Sheriff's Office where I help catch predators who are exploiting and hurting children. Here's a secret…I didn't even apply for the job! My hobbies include playing with my roommate "Jack the Jack Russell," laying around the house, chewing plastic bones, uncontrolled slobbering, snoring, whimper when I sleep, oh and being cute (according to my dad).
Deputy Jose Leon and his dog Toro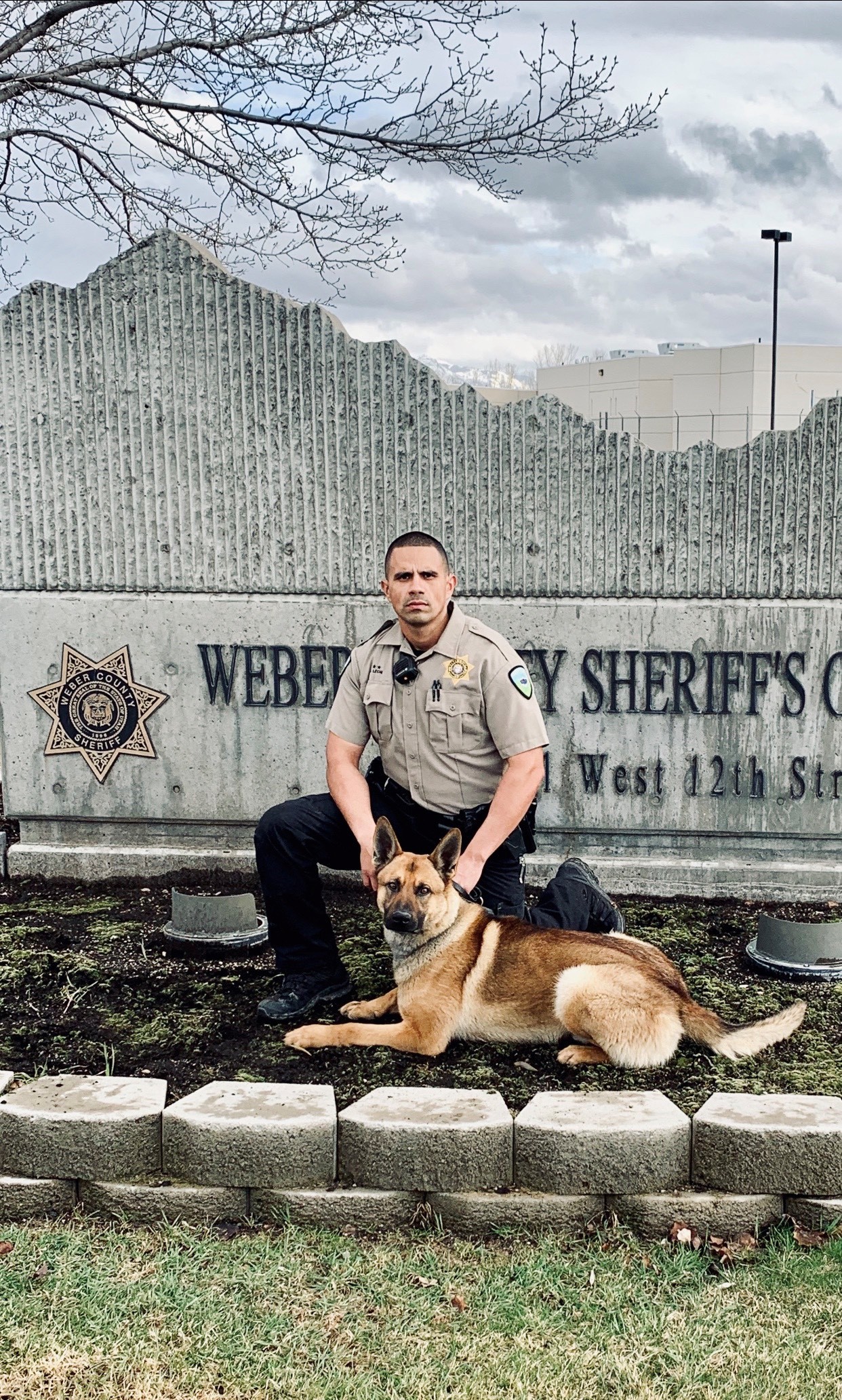 Bio of Jose Leon and Toro
Deputy Jose Leon has been with the Sheriff's Office Enforcement Division since April 2016. Deputy Leon was assigned to the K9 Unit on April 2018 and is the handler of K9 Toro. Deputy Leon and K9 Toro are certified on both Narcotic Detection and Patrol Disciplines as a unit. K9 Toro was born on February 2017 and is a German Shepard / Malinois cross breed. K9 Toro was also imported from Slovakia by a local Kennel and purchased by the Weber County Sheriff's Office.
---